The Two Harbors rooster is back, but it's in rough shape. Last week, somebody stole the larger-than-life statue of a rooster from its perch next to the highway. The bird is a landmark on the drive up the north shore of Lake Superior. The thieves threw the rooster off a bridge. It looked like the statue would never be the same. But airline mechanics in Duluth have volunteered to put it back together again.
Two Harbors, Minn. — If you're driving Highway 61 up the North Shore of Lake Superior, you can't miss the chicken. When you come around the last bend on the way into Two Harbors, there it is, right next to the road, in front of Weldon's Gift Shop.
"We're talking an eight-foot rooster," Says Weldon Johnson, who runs the gift shop with his family. "Basically white. Red comb, red tail. Yellow beak, yellow feet. He's about 100 pounds of fiberglass."
Johnson has lived in Two Harbors for all of his 71 years. And his rooster has watched over this stretch of highway for 40 of those years.
One day, back in the 1960s, a salesman pulled up to the gift shop towing a trailer full of fiberglass animals. There was a bear, a dinosaur, a horse, and a chicken.
"I almost bought the horse," he says. "And I thought, no, it's too real. People will drive by and say, 'Look at the horse.'"
The chicken caught his eye.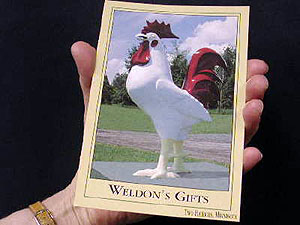 The rooster on the outskirts of Two Harbors has appeared on postcards and in family snapshots for 40 years. Someone stole the statue and ruined it, but airline mechanics in Duluth are volunteering their time to repair it. (MPR Photo/Chris Julin)

"With that, people won't drive by and say, 'Look at the chicken," he says. "They'll drive by and say, 'Hey, look at the CHICKEN.' And it worked."
People from all over the country know the chicken. Weldon Johnson has had mail delivered to him with the simple address: Rooster Gift Shop, Two Harbors, Minnesota.
When you put an eight-foot-tall chicken outside your gift shop, you'd almost expect it to be a target for vandals and pranksters. Sure enough, Weldon Johnson's rooster has been known to roam on occasion. It showed up on the lawn at the high school. It was held in captivity for a spell by some college kids in Duluth.
But last week marked a new low for the rooster. Somebody tore it free from its legs, drove it to Duluth, and threw it off a bridge into Amity Creek. It was wrecked, and Weldon Johnson started shopping for a replacement. It was going to cost between $3000 and $4000.
Then, just the other day, some guys from the the Northwest Airlines maintenance base in Duluth showed up at the gift shop. They work with fiberglass all the time, and they offered to repair the rooster, free of charge.
They took the rooster back to the maintenance base, and they've started patching it up. They told Johnson he'd have his bird back in a couple of weeks - in plenty of time for tourist season.
Up in Two Harbors, the police are still looking for the thieves. Chief Rick Hogenson says the case isn't their top priority, but they're taking it seriously. They're calling it a felony, because of the thousands of dollars it would cost to replace the rooster.
"If they'd simply set it aside and driven someplace and called and said, 'We know where your chicken is. I'm not going to tell you who I am, but this is where it is, goodbye,'" Johnson says, then the police "probably wouldn't be pursuing it nearly as much as we are. But because they chose to throw it off of a bridge that's 20 to 30 feet above a creek, to me that's intent to damage it, not just hide it."
Hogenson says the police have some good leads. Somebody saw a pickup truck speeding down the highway with what looked like a fiberglass chicken in the back. They got a partial license plate number. The chief is hoping for an arrest in the next week or two.
Hogenson says the workers at Northwest Airlines are keeping track of their volunteered time and materials. He'd like to see the thieves have to work off the cost of the repairs.